Voted Best Sushi Restaurant Orlando
Enjoy the Best Sushi in Orlando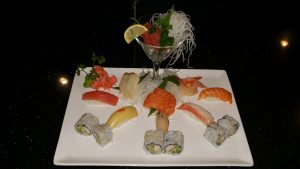 Sometimes you just crave delectable sushi. Whether your choice is a trendy California Roll, a choice of sumptuous tempura rolls, salmon or king crab rolls, one thing is for sure, you want your sushi to be the best sushi in Orlando. A-Aki Sushi proudly serves sushi with large pieces of fish, the freshest vegetables and rice cooked to perfection to create memorable and best Orlando sushi dishes that are visually appealing, while tantalizing your taste buds.
We pay attention to demonstrating superb culinary artistry, which has caused our amazing original sushi creations to be named the best sushi Orlando can find by the media and by sushi lovers. When you've searched for exceptional sushi in Orlando, you've come to the right place, A-Aki Sushi and Steakhouse. We're excited for you to try our sushi creations, because we know that when you do, you'll want to tell your friends so they can share in the great, authentic sushi experience.
Our sushi offerings are created from the freshest and biggest portions of seafood, along with crispy, fresh vegetables, taste bud tempting original sauce creations and perfectly light, aromatic rice. Whether you go with lunch time Bento boxes, sashimi creations or our famous sushi rolls, your sushi experience is expertly served by A-Aki Sushi, where you'll find the best sushi in Orlando. Life's most memorable experiences are best served fresh!
Try the Exceptional Sushi Orlando Loves for Yourself!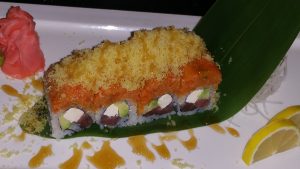 It's one thing for someone to tell you how exceptional our unique sushi creations are, but once you discover for yourself how flavorful, mouth-watering and delectable they are, you'll be just as devoted as the sushi lovers who consistently praise A-Aki Sushi for excellence! Our friendly and knowledgeable staff are delighted to help you choose exactly the right dish that will appeal to your taste, and they will make you feel welcome as well.
We're easy to find in one of the area's premier shopping and entertainment destinations, on Sand Lake Road near The Florida Mall. We're also close to all the favorite theme parks, making A-Aki Sushi a delicious and convenient choice for sushi and seafood lovers! We're open for lunch and dinner, seven days a week.
A-Aki Sushi Proudly Serves the All-You-Can-Eat Sushi Orlando Loves
The all-you-can-eat choice of the sushi Orlando loves is now easier than ever to find at the best choice in exceptional sushi restaurants in Orlando, A-Aki Sushi and Steakhouse. When you find all the sushi you can eat at an affordable price, sushi lovers flock to try all the latest sushi delights.
The best sushi that Orlando loves, served in an all-you-can-eat, affordable way. You'll soon be saying "Let's go!" Our chefs meticulously prepare sushi, sashimi and our grilled seafood and cooked fare to perfection, creating visually and tastefully appealing offerings. Our ingredients are the freshest they can be for an exceptional experience. Come experience the best all-you-can-eat-sushi in Orlando.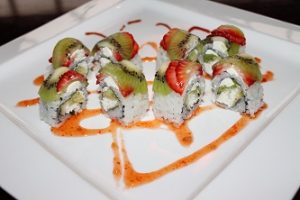 Award-Winning Orlando Sushi and Steakhouse
A-Aki Sushi and Steakhouse has been awarded as the finest sushi in Orlando by Orlando Business Journal's Readers' Choice Awards, and for being the Best Local Sushi Restaurant among sushi restaurants in Orlando by the Orlando Sentinel's 18th Annual Foodie Awards. We're incredibly humbled, honored and proud to have received these awards and we strive every day to continue providing the best Orlando sushi.
We love being able to serve you in a relaxing and comfortable ambiance, featuring first-class service. You'll enjoy dining with friends and loved ones in a cozy, peaceful atmosphere, with attentive staff to make sure you have the best experience. And you'll truly love the freshest seafood, steaks, sushi, sashimi and salads that make it worth returning time and again for an award-winning experience.
The Best Sushi Orlando Restaurant
Once you've tried the exceptional sushi from A-Aki Sushi and Steakhouse, you'll understand why we've been so richly awarded by peers and by sushi aficionados. You'll adore the sushi, and you'll find yourself returning for it and for the perfectly cooked, juicy steaks, smoked salmon, palate pleasing seafood and vegetarian rolls, sashimi and delightfully light and satisfying salads.
A-Aki Sushi and Steakhouse is easy to find and close to all your favorite Orlando attractions. Look no further than our location on Sand Lake Road in front of the Florida Mall for the best sushi in Orlando. Authentic Japanese Fusion delights and sushi rolls have never been more delicious, or so easy to find! The most discerning seafood lovers will be thrilled and delighted to find true, authentic sushi right here in Orlando! With all of our awards, regular guests, great service, come and experience our sushi Orlando restaurant.